Secretary Alan Peter Cayetano of the Department of Foreign Affairs extended his apologies to the Kuwaiti government over the "rescue" of Filipino workers allegedly maltreated by their employers. Cayetano viewed the act as a violation of Kuwait's sovereignty.
In a video that went viral online, it can be seen that two staff from the Philippine Embassy rescued domestic helpers from their abusive employers.
According to Cayetano, the Kuwaiti government has already accepted the explanation which was personally from President Rodrigo Duterte, in their recent talk in Davao City.
"We're sending a note now to my counterpart, and we are apologizing for certain incidents that Kuwait view as a violation of their sovereignty," says Cayetano.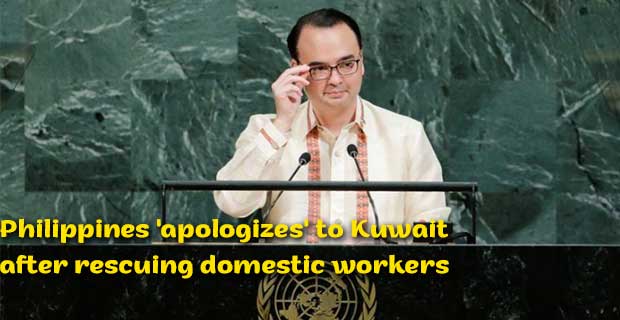 Necessary measures were also done to avoid these kinds of events again.
The Philippines and Kuwait are currently working on an agreement for the protection of Filipino workers in Kuwait after towering reports of death and maltreatment of OFWs in the Gulf country.
The discovery of the body of a Filipina inside a freezer prompted the government to uphold a total deployment ban of Filipino workers to Kuwait.
In most Gulf states, employers are allowed to keep the passports of their employees because of the "Kafala" system. This has led to workers being illegally exploited and abused by their employers.
"We respect Kuwaiti sovereignty and laws, but the welfare of Filipino workers is also very important," says Cayetano