A netizen's photo of a family saying goodbye to the mother departing in the Ninoy Aquino International Airport (NAIA) and has tugged the heartstrings of many Pinoys. Even more affected are the overseas Filipino workers (OFWs), the photo hitting too close to home.
The photo was taken by a certain Martin Angelo Dideles on his Facebook. The photo has since then been shared 647 times and liked 1,775 times as of this writing.
Dideles shared that he was on his way to Davao. He sat on the benches near the line towards NAIA Terminal 3. From where he was seated, he could hear a family—the mother and the father crying.
The distance between Dideles and the family was a little out of earshot, but he can hear the conversations of the husband and wife. The wife told her husband to take care of their son, carried by the father, and he could see the husband tearfully nodding in reply.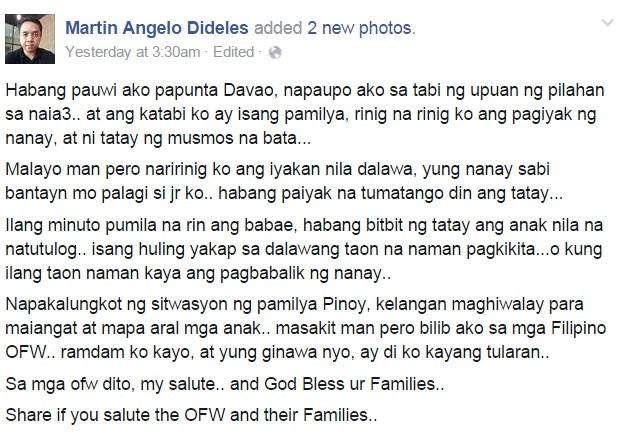 Eventually, the mother lined up in NAIA-3 while the father carried his sleeping son. The couple share a hug, their last hug most probably until the mother's return.
It is assumed that the mother is an OFW who will be leaving her family to find a way to make ends meet. This is not an ordinary situation, after all. This family is only one of several families who have to separate so that one member of the family can give their family a better future.
Didelas finds it sad that the common situation of the Filipino family can be summed up in one scene. He finds it said that the family has to be broken so that the children can afford to go to school.