WARNING: Bogus site of Cebu Pacific again on the heap as the Christmas season is fast approaching. Their target? Overseas Filipino Workers who can't personally go to their designated office for face-to-face transaction.
An OFW was the latest victim of a bogus Cebu Pacific Facebook Page. The OFW from Davao was supposed to arrive in the Philippines next month.
The OFW and her family were  planning to go to Cebu so she decided to book a plane ticket online through the Cebu Pacific Facebook Page.
She was asked to pay P1,499.00/person or a total of P7,495.00. She was asked to send money through Smart Padala. After sending the money, she was instantly blocked by the said Facebook page. Unfortunately, she went across a bogus Cebu Pacific Facebook page.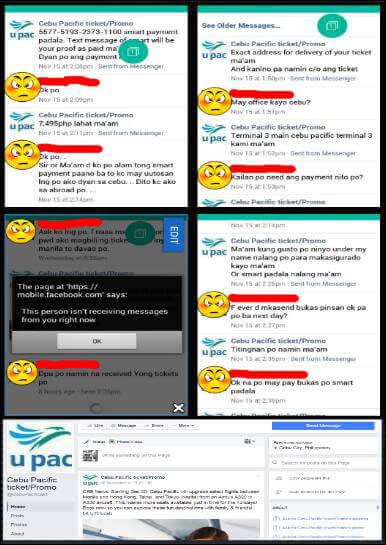 This incident should serve as a very good example to all people, especially OFWs, not to transact money matters online. But if you really have to, see to it that you are transacting a real and legal company to avoid the same incident.
Attention Cebu Pacific Management please investigate the said page, OFWs must share this.