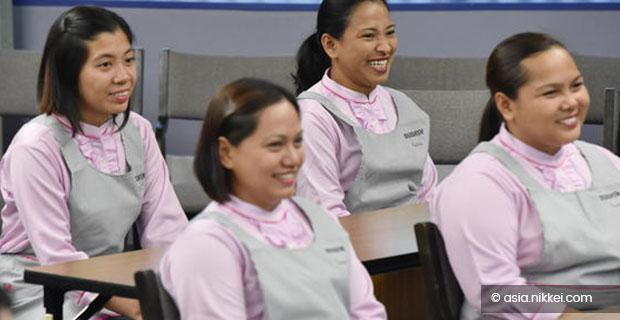 Duskin just welcomed the first batch of foreign housekeeping employees as it opens its doors to migrant workers for an aim to alleviate the lack of labor in the industry.
The eight Filipino employees, ages 25 to 38, succumbed to an intense two-week training before starting their first actual work under Duskin's Merry Maids business. They will be accompanied to their respective customer's house by the Japanese staff.
"I want to learn various skills at Duskin every day," according to a newcomer that she said in fluent Japanese. Four of them will go to Yokohama while the rest are tasked to work in Osaka.
This year, Duskin is set to employ another set of foreign housekeepers which will be assigned in Tokyo. And for the next five years, they are hoping to employ more than 100 foreign workers for their business.
For years, there has been a shortage of housekeepers in Japan, forcing the government to lift restrictions last 2015 in Tokyo and Osaka, places they consider as special economic zones.
This move is in line with the plan of Japanese Prime Minister Shinzo Abe in creating a resilient economy with full labor participation.
The Cabinet Office and the government of Tokyo and Osaka gave their full approval to companies like Duskin and Bears to hire foreign workers for their housekeeping services.
About Duskin 
Duskin Co., Ltd. engages in the franchise business that ranges from environmental hygiene to food services. It operates through the following segments: Clean Care Group, Food Group and Others. The Clean Care Group segment provides cleaning, pest control, office facility management, housekeeping, lifestyle support, uniform rental, health and beauty products, leisure goods, and cleaning equipment rental services. The Food Group segment sells donuts, oven-baked beignets, seasonings, and dim sum products. The Others segment includes hospital management, office equipment and vehicle leasing, insurance agency and overseas businesses. The company was founded by Seiichi Suzuki on February 4, 1963 and is headquartered in Osaka, Japan.
Duskin hopes to hire 100 foreign workers as housekeepers over the next five years.