The Philippine Embassy in Abu Dhabi, through its Assistance-to-Nationals (ATN) Section, facilitated the repatriation of 23 distressed overseas Filipino workers (OFWs) who are mostly household service workers (HSWs) and victims of human trafficking and illegal recruitment last May 12,2017.
They will take the Philippine Airlines flight on May 11 and are expected to arrive in Manila in the morning of May 12.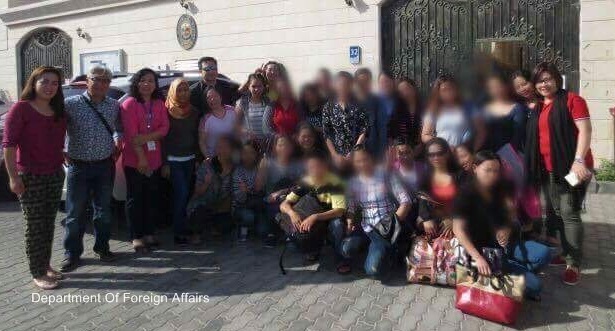 Filipinos In United Arab Emirates
Dubai is home to the largest population of Filipinos in the UAE, followed by Abu Dhabi and Al Ain.In 2007, Filipinos in the UAE sent more than US$500 million in remittances back to the Philippines.
Filipinos are migrants or descendants of the Philippines living in the United Arab Emirates. 679,819 Filipinos live in the UAE, of which 450,000 live in Dubai, and they form 21.3% of the population of Dubai
Overseas Filipino Workers (OFWs) employed in the architecture, construction, cargo shipping  design engineering, energy, information technology, marketing, medical, real estate, retail, telecommunications, and tourism sectors or as domestic helpers. The Philippine Department of Labor and Employment also has two Philippine Overseas Labor Offices (POLOs) in the UAE, in Abu Dhabi and Dubai. These offices, as well as agreements between the Filipino and UAE governments, have set the monthly minimum salary for OFW's at US$400.[9] Because of the high number of Filipinos in the UAE, OFW's have called more direct flights from the UAE to the Philippines.