SINGAPORE – Employer who maltreated her maid had her jail term tripled, from two months to 24 weeks (6 months).
The employer, identified as Chua Siew Peng, 45, allegedly slapped her maid then confined her in a condominium in Bukit Timah. Prosecutors appealed for a much heavier sentence to the employer and the decision came yesterday.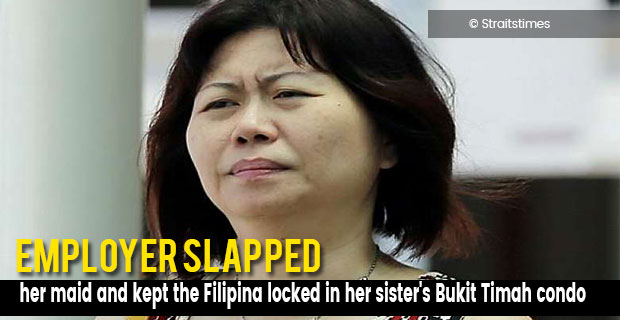 According to reports, Ms. Jonna Memeje Muegue, 28, tried to escape from the apartment of her employer by climbing the window. She then jumped off from 6th floor, landing on the 5th floor roof, causing a fracture in her feet.
In the statement of Muegue, she resulted into doing the life-threatening escape after her employer, the employer's sister identified as Kathleen Chua Siew Wei and their mother took turns in maltreating her.
The night before her escape, Muegue endured a slap and punch coming from her employer's mother just by merely eating a salmon which was not meant for her. Lum, employer's mother, was not contented with that. She slammed the head of her maid in the wall then poured a bleach onto her. Her employer's sister joined the physical abuse by pulling the maid's hair then slapping her numerous times. Lum, was given 21 months' probation last year.
Kathleen Chua was initially acquitted but her status is unclear since her case was sent back for thorough retrial.
It can be recalled that Chua, was sentenced to two months jail term due to wrongful confinement and causing pain to her maid. The prosecution counter attacked her appeal for heavier sentence due to wrongful confinement charge.
In the court hearing, it was revealed that Mugue had to endure 11 months of confinement. She was not allowed to have days off, deprived her mobile phone, and barred from communicating to other people.
Quek Mong Hua, lawyer of Chua, argued that the Filipina maid knew that there are keys left in the living room but still refused to get it.
Despite Chua's appeal, Justice Chan Seng Onn increased the jail term of the employer from the previous two months, making it 24 long weeks.
Chua was the first employer in Singapore charged for maltreating her maid.