While Saudi Arabia was considered as the main employer of OFWs (Overseas Filipino Workers) in record, China could possibly replace its place if it pushes through with its massive hiring for service workers as soon as plans be ironed out and finalized.
Based on GMA's report aired via 24 Oras last Tuesday, The Chinese Embassy in the Philippines through its economic and commercial counselor had engaged in a discussion with officials from the Department of Labor for eyeing Filipino household workers.
Labor Undersecretary Dominador Say shared, "Ang China, there is a new rising class ng mga may pera na mga households na ngangailangan ng household workers, and ang hinahanap nila, ang preference nila Pilipino."
Given that the Filipinos were well-known for their hard work around the globe, he also said that they were also identified to be religious and God-fearing which translates into the way they perform their duties. Filipino domestic helpers were also very neat which always make them the most sought nationality when it comes to hiring overseas workers.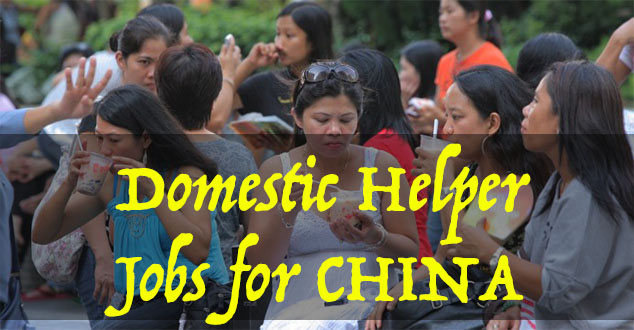 Based on the report, records indicate that Filipino workers deployed abroad last year counts to 600,000, 47% of which were deployed into household service adding at least 5,000 Filipinos working in China, though they were hired illegally.
Currently, Filipino service workers in China are receiving $400 (P20,000) instead of $1,000 (P50,000) as also contained in the report.  This is an agenda that the Philippine labor officials and the Chinese delegates will have to iron out and establish certainty of when they get to sit together for a meeting scheduled on the 20th of September.
The said meeting will also cover issues and concerns pertaining to the protection of OFWs.
With the possibility of pushing through with the massive hiring for Filipinos as overseas workers by China, number of OFWs could blow up from 2,112,331 in 2016 to more or less 3 million this year, 2017.
The report also said that China is eyeing to hire 100,000 foreign workers each month. Should the plan materialize, China's massive hiring would work on positively to Filipinos advantage as more doors for possible jobs will be opened to them.
Say believes that this development indicates better relationships with China and the Philippines after disputes over portions of the vast South China Sea took place.
More information watch below :