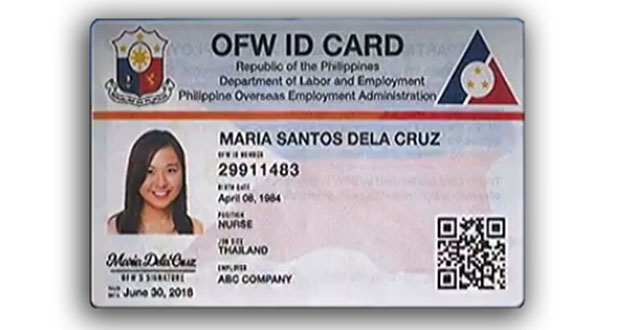 MANILA, Philippines –  Overseas Filipino workers (OFWs) won't be getting their identification cards yet despite the government's having launched the new ID system for migrant workers.
The Philippine Overseas Employment Administration (POEA) clarified that the government is not issuing the Department of Labor and Employment ID cards or iDOLE until after appropriate guidelines are drafted.
The necessary guidelines will still be drafted so the government will not be issuing ID cards for OFWs for now," the POEA said.
The POEA advised OFWs to wait for further announcement regarding the process in securing the iDOLE.
It said the government needed to issue an advisory due to the mounting queries they are receiving from OFWs.
Labor Undersecretary Dominador Say earlier reported the DOLE would set up an online system where OFWs, including those scheduled for departure, can apply for iDOLE.
Say said the application would be processed and the ID would be delivered to the OFWs through the Philippine Postal Corp.
The POEA will sign an agreement with concerned government agencies for the adoption of the OFW ID system.
iDOLE will replace the OFWs' overseas employment certificate, which is required for their departure.
Labor Secretary Silvestre Bello III said that through the iDOLE card, OFWs could access their records online without having to go to any government agency or office.
Bello said inactive OFWs can apply for iDOLE by submitting their old record of employment abroad.
Undocumented OFWs, or those illegally staying abroad, may also apply if they want to legalize their status.