The Overseas Filipino Workers who were left stranded in Hong Kong after encountering ticket problems will soon be home for Christmas as the government steps in to help them.
Through the help of different agencies like the Department of Foreign Affairs, Philippine Airlines (PAL), Department of National Defense, and Department of Labor and Employment (DOLE), mandated by President Rodrigo Duterte, these Filipinos will soon be home with their families this Christmas.
"We have the instructions from President Duterte na iuwi namin kayo (OFWs) before Christmas (to bring you home before Christmas)," says Department of Labor Secretary Silvestre Bello III.
"So we have talked to PAL and they will update their flights; they might be accommodated one by one … Those who were stranded there will be able to go home, in two to three days before Christmas."
DOLE already had talks with the National Bureau of Investigation regarding the possible liabilities that the travel agency will have to face.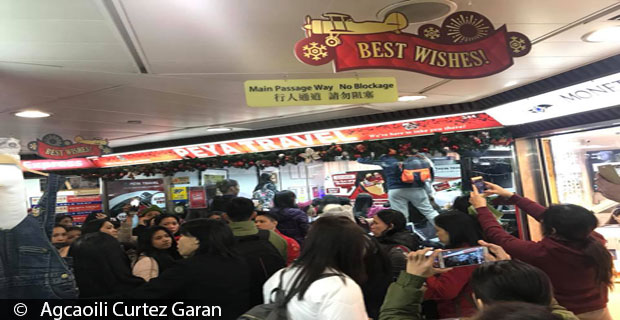 About 1,000 OFWs had to deal with the cancellation of their flights, leaving them hopeless to be with their families in the Philippines this Christmas. It is said that the booking never actually translated into valid plane tickets because the travel agency failed to pay it.
Despite the message of apology released by PEYA Travel, the travel agency who handled the bookings, they all fell on the deaf ears of angry and frustrated customers.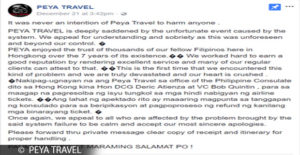 Just to go home to their families this Christmas, some OFWs even bought another plane tickets, leaving them with the burden of paying the expense.
To help these distressed OFWs, Cathay Pacific Airways has made a move to provide discounted ticket rates for them.
Philippine Airlines, on the other hand, is starting to use their larger aircraft starting Dec. 22-23 and January 3 to 4, 2018.
This move is to provide an added capacity for their Manila-Hong Kong – Manila flight routes.
Cebu Pacific is also trying "to see how we can assist the affected Filipino migrant workers."
"Our flights back to the Philippines — and we fly from Hong Kong to Manila, Cebu, Clark, Iloilo and Kalibo – are full at this point in time. The next available flight with vacant seats is on the evening of December 25th," says Cebu Pacific.
"As most of our flights are reaching full capacity in light of the peak holiday travel season, we are trying to see how to increase capacity to help OFWs get home."