It is truly challenging to work abroad. You will have to face different people, dwell with them and go through all the challenges that come along the way. Not all OFWs has a success story to tell. Some are unfortunately to have landed on cruel and heartless employers who will not hesitate to let them have a life like a living hell.
Charita Lausa went to Saudi Arabia with hopes of providing a brighter future for her family in the Philippines. Unfortunately, she was not treated well and ended up getting injuries in the hand.
Facebook user Rechel Avila Lastimosa posted the story of Lausa in her Facebook account, fully backed with images and videos to attest her claims.
Video 1
According to Lastimosa, Lausa did not just suffer from a ruthless employer, her agency also did not believe her. They see the situation of Lausa as mere lies despite all the videos and images she has.
TRU FORCE INTERNATIONAL MANPOWER allegedly denied helping Lausa despite seeing the videos which were posted online.
In the video, Lausa can be seen with a broken bone in the hand. She had to go to the hospital and doctors inserted a steel to heal her fracture. Despite suffering from a fractured arm, Lausa still worked hard as seen on the videos she captured.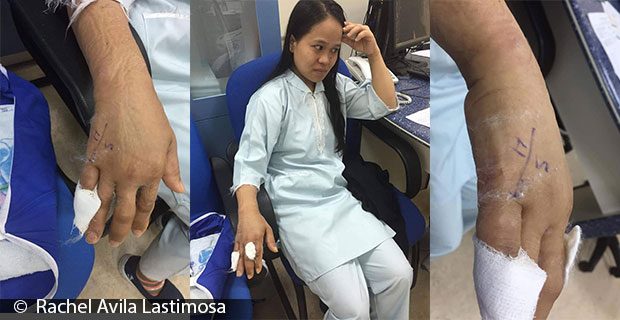 It is not clear where Lausa got the injury. By the time that her fractures were healed, the steel in her arm was removed. What's odd is that it is removed without the use of anesthesia. The process was truly painful and Lausa even lost consciousness.
Lausa needed help but her agency denied to give it to her. Thankfully, media stations in the Philippines were able to hear her pleas. She will have an interview with DZMM Patrol and ABS-CBN today.
Hopefully, she can get the help she deserves.
Facebook Post Below :