Marie Antonette Buhain Llagas, a 41-year-old Filipina holder of permanent residence in Singapore has been sentenced with 5 weeks imprisonment for refusing to pay her taxi fare and engaging into an argument with a driver.
According to Strait Times, the incident happened last December 2015 and the sentenced was laid down last July 19, 2017.
The incident happened last December 21, 2015 when Llagas boarded a taxi which was being driven by 47-year-old Chua Cheng Hwa. She asked the driver to drop her at Pasir Ris Drive 10.
Allegedly, Llagas was drunk at that time and had vomited inside the taxi.  Later on, she offered to pay $50 to the driver to compensate the expenses that the driver will have to pay for cleaning her mess.
When the taxi reached the place where she asked him to drop her off, she alighted from the taxi and walked straight towards her boyfriend who was waiting for her at that time. Llagas did not pay for the taxi fare amounting to $24.90 and the $50 which she previously promised so Chua followed the partners on their way to the elevator and demanded for the payment.
Llagas agreed to pay the taxi fare ($24.90) but strongly refused to give the $50 she previously and instead said that she will clean the taxi herself.  She then instructed Chua to just wait for her at the ground floor.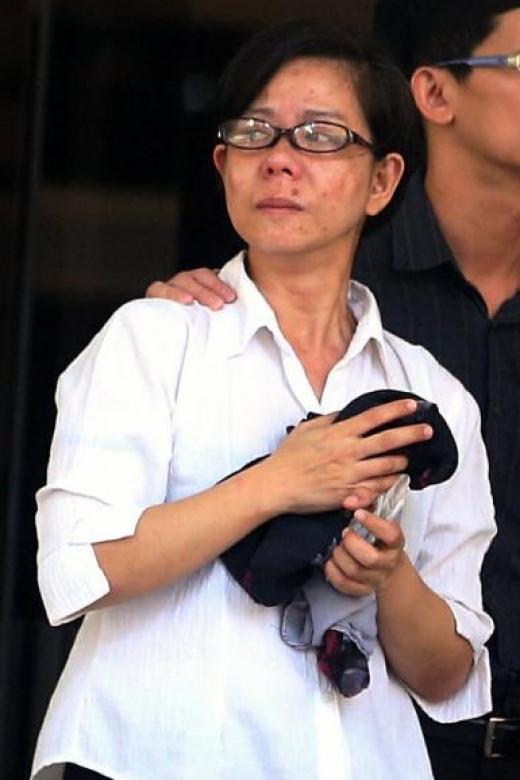 Marie Antonette Buhain Llagas -Image by The New Paper
After a few minutes, she went down and handed $20 to Chua.  She doesn't have any cleaning material with her as expected after offering to clean Chua's taxi. She then left in a hurry with her boyfriend.
The driver was provoked to engaged himself in an argument with Llagas as he tried recording their confrontation in his mobile phone. Llagas hit him with her mobile phone until her unit fell on the floor.  Afterwards, she continued hitting the driver for several times.
Last July, considering the fact that Chua as a victim was even remorseful and sorry for what happened, District Judge Eugene Teo considered the fact that he was not seriously injured by Llagas during the incident.
 From the cases, it ought to become clear that it really does not matter who you are, local or foreign, rich or poor, have family to support or not, because if you behave this way, you can expect to receive an appropriately stiff sentence even if you are a first offender, he said.
However, taken into account that Chua was not complaining that much about the physical injuries done to him  by Llagas, the judge  just sentenced Llagas with 5 weeks imprisonment and  $500 for the offense.
Moreso, had the court been not considerate of Chua's reaction for being apologetic and remorseful of what happened between him and Llagas, she could have been imprisoned for 2 years and a total of $6000 as penalties.