Another OFW in Riyadh, Saudi Arabia seeks help and would have just wanted to be brought home to the Philippines.
In a Facebook post of Ginalingan Eh, an OFW in the name of Ella Mariano Fernando who working as a domestic helper was suffering from swollen and wounded hands with tiny blisters on her face.  She then appealed for those who know Ella to share her post so they can acquire help for her.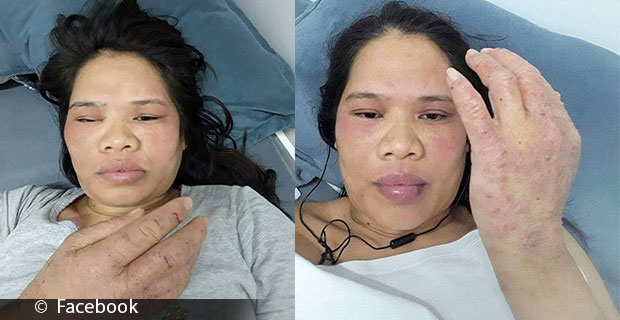 On the comments section, some fellow OFWs adviced Ella to apply medicated cream into her hand.  Apparently, some of them had previously suffered the same case which they refer to as eczema.  However, since Ella was not yet brought to the hospital, her actual condition is not yet established.
Ella hails from Pili Looc, Romblon and is represented in the Philippines by Ortiz Agency and Employment Services, Inc.
Eczema is a condition where patches of skin become inflamed, itchy, red, cracked and rough.  It is also called dermatitis. Among household helpers, it may be possibly came from repeated exposure to detergents, solution with strong formulation and toxic materials that irritates the skin and causes rashes.